Boating 2009
Well, here we are, It's now the month of May and another boating season is about to start. I remember those days when I lived for this time of year, and when the first nice warm weekend hit in late April or early May, the boat was made ready. But that was before I became a father, and I was at least 10 years younger with a bit more energy. Back then I took the boat out at least once (usually twice) every weekend that it didn't rain. These last few years though, I'm lucky if the boat gets used 4 or 5 times PER SEASON! On the bright side, I am saving a ton of gas money, but that's a small consolation. It's not that I've lost interest, it's just that there are so many more things competing for my time, plus I no longer live 5 minutes away from a suitable waterway. So I have to take each year as it comes and hope for the best. And no two years ever start off the same. Last year I was lamenting about the ridiculously high price of gas. This year, the price had dropped from over $4.00 a gallon to around $1.50 a gallon during the dog days of winter. Happy days were here again, or so it seemed. But I knew deep down that it was only temporary. As I start this year's boating journal, the price has already inched its way back to around $2.39 a gallon, but the "experts" claim it won't get anywhere near as high as last summer. Well, I'll believe that when I see it. But while gas was cheap, I managed to fill the boat's tank to the brim, 5 gallons at a time with the help of my handy plastic gas can. So I'm ready to go, at least for a little while. Our local food market also offers discounted gas cards (I've saved up to $1.10 a gallon off so far), based on the amount of your weekly food purchases, and I'm going to take full advantage of this to keep the boat full this year.
And what would a boating journal be without a spring weather synopsis? This past winter, we had maybe one more significant snowfall than last year, so we're still falling short in that area, which is not necessarily a bad thing...... But this year's spring has been a curious and prolonged cage match-style battle between summer and winter, both of which seemed to be locked into a "never give up", smack-down fight to the death. As early as March, summer started sneaking in there, giving us little shots of warm weather, which raised hopes for an early spring. But then, just as quickly, old man winter woke back up and the intoxicatingly warm spring weather was replaced by a sharp plunge back into the bowels of winter. This tug of war of temps continued all the way up into May, where it's hit 90 one day, but we've also had morning frost during the very same week. Rainfall has come in clumps too. Weeks went by without much in the way of rain. But then it'll rain steady for 8 days, which is depressing to say the least, and it makes me want to start looking for pairings of animals and some old guy building a large boat in his backyard. But when you average things out, the temperatures have been pretty spring-like for the most part, which has allowed me to do most of my pre-summer "get-ready" chores. So I'm now in the mood to do a little boating and fishing.......
(May)
This year's boating journal starts officially on Memorial Day weekend. In other years, I've started writing as early as April. But I've just been so doggone busy with home chores, my daughter's activities, and other stuff, that I haven't had time to do much more than just think about boating. However, I finally got a small window of opportunity during my 4 day Memorial Day weekend. I changed the outdrive fluid (something I should've done last fall, but I ran out of weather then), and drained the anti-freeze, so now I'm pretty much ready to go. The battery's charged, and with a fuel-injected engine, I'm fairly certain, it'll fire off as quickly as if I ran it just yesterday. There is one bit of exciting news to report. I finally managed to order my new prop this year. I had decided on the Mercury Enertia propeller 2 years ago, as I was impressed with the reviews of this newly designed prop. But deciding which pitch to get was not an easy task. I had spent a fair amount of time trying to characterize my boat's performance to decide which pitch size would work best for me. I tried 4 different props, but they were all different in both design and pitch. And that's been the crux of my confusion. For proper engine loading, I need a prop which puts the WOT RPM between 4600 and 5000. The stock 4 blade 20" pitch aluminum goes right to 5000, but a stainless steel 23" pitch Mirage will only max out at 4300 while the 23" pitch cleaver made barely 4000 RPM. The confusion comes with the math behind this. Supposedly, the rule of thumb is, RPM changes by about 200 for each 1" change in pitch (all other factors being equal). So there should have been about a 600 RPM difference between the 20" and 23" pitch props, yet I was seeing about 700 RPM difference on one prop and almost 1000 on the other. I thought that maybe the aluminum prop was flexing or slipping a little which might account for the higher RPM. Also, 4 bladed props supposedly act like a 1" lower pitch 3 blade prop, so the 4 blade is really the same as a 3-blade 19" pitch. So that also enters into the equation. But yet my 5 blade 19" pitch (which in theory should act like an 18" pitch) Hi-Five prop turns at 5100 RPM. So I'm left with a whole lot of maybe's, could-be's, and WTF's, but not a lot of sure direction. So, not being able to come up with the exact prop pitch by the scientific method, I threw my hands up and decided on the 20" pitch Enertia. I figure it's most similar to the 3 blade Mirage, so I estimate that it'll run at about 4900 RPM with a light load, so I have my fingers crossed. But even if it turns out that this new prop is a little too steep for ski and tube pulling, I can always throw the Hi-Five on for that, so I have my bases covered. But it does look like I'll be selling off at least one prop that I can't use.
The new prop arrived on its scheduled delivery date, and I wasted no time bolting it on the outdrive. It also gave me an excuse to pull the boat out of the garage and fire it up, which it did as effortlessly as expected. So now I'm really anxious to test it out. I'm going to push to go out in the next week or so and I'll make sure I've got fresh batteries in the GPS.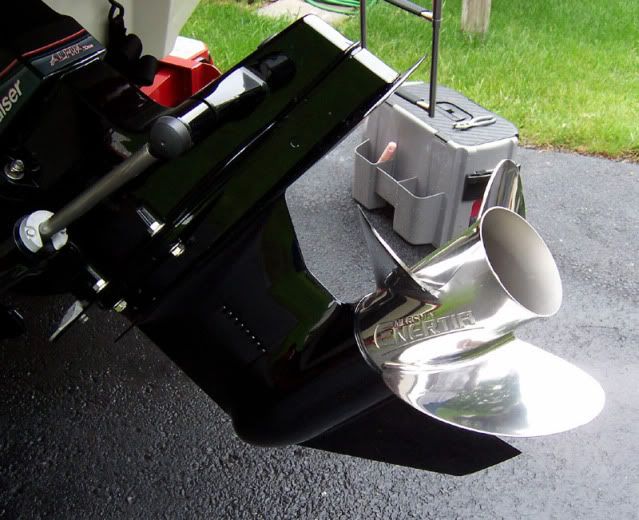 (June)
Well, a month has gone by since my last installment in this years boating treatise. And it took that whole month before the boat finally hit the water on the 29th of June. What can I say? Every year brings a different set of obstacles and this year was no different. This year's main impediment has been the weather. Like I said before, spring had been very slow to settle in this year and there had been a constant tug of war between the waning influence of winter and the up and coming spring. But winter put up a good battle this year, and it really took a while to warm up and stay that way. June is almost over and I haven't even been in the pool yet, and it's been open for over a month now. But the cooler temperatures have not really been all that bad. In fact, I actually like it a little on a cool side. No, the temperatures haven't been the issue, the real problem has been the RAIN. From the middle to end of May, and lasting throughout most of June, it's been week after week of rainy weather. There would be one or two nice days (during the week of course), followed by 5 or 6 days of straight rain. Not heavy downpours, but steady, dreary, depressing drizzles. And of course, with the heavy cloud cover, the temps have been languishing in the low to mid 60's so it has just not been very conducive to outdoor activities. Ironically, though, according to the weather people, our area is still BELOW average for rainfall for the year..... Go figure! The family and I had planned to take a camping trip out to Pequea Creek, in the early part of the month, but we cancelled it when it became clear that the week would be inundated with rain. We rescheduled the trip for the end of June, but uncertainty with the weather plus some other issues forced us to cancel yet again. But as a consolation prize, Kimmi suggested I take Monday the 29th off and we'd take the boat up to Blue Marsh for a day of fishing, tubing or whatnot. Well, the weather turned out to be bright and with mild temperatures so we actually made the trip. But I didn't want to make a special trip for bait so we left the fishing poles home. That turned out to be a mistake, as we observed several large fish which appeared to be Carp, swimming at the surface feeding off the stuff floating there. I'm guessing we would have caught something had we brought our poles. Oh well, maybe next time.... Despite the abundance of fish in the area where we anchored to eat lunch, my daughter Heather didn't seem to be all that concerned about it and she dove right in to join them.
We hung out for a while and had lunch and just enjoyed the day. I was also anxious to see how well my new prop performed against the old one. Well, I didn't really do a detailed comparison with the GPS, but max RPM with the 3 of us on board and a full tank of gas, was around 4600, which is right about what I figured with a heavy load. With just me and less fuel, I'm figuring it'll turn closer to 4900 RPM, and I should be able to break that elusive 50 MPH barrier. Either way it falls right into the proper RPM range. Top speed just touched the 50 MPH mark on the speedo, although past comparisons with the GPS shows it to be about 2 MPH off on the generous side. One other thing I noticed was that the boat seemed to rise up out of the water to plane much smoother and with less bow rise than with the aluminum prop.
Heather wanted to go tubing, but it was a little too crowded for my tastes, and I just wasn't feeling up for it. I think I'm just getting too old for this stuff...... At this point I was just glad to get the boat into the water.
Maybe next time..........
(July)
Well, the first half of July pretty much flew by but I did manage to get the boat out on the 18th. The rest of the family up and left me, and went to the New Jersey shore for a long 4 day weekend, which pretty much left me to my own resorts. So predictably, I made plans to take off on Friday the 17th with the intention of taking the boat down to the Chesapeake Bay for a nice romp in some big water, take in some sites, and maybe even meet up with Gene down in Havre de Grace. I had asked Art to go along, but he was hopelessly bogged down at work and couldn't take the day off. However, not even Art's "workus interruptus" was going to dissuade me, so I resigned myself that this would be a solo trip. Unfortunately, mean old Mr. Murphy would not have any of this and he threw a monkey wrench in the works. The originally forecasted nice weather suddenly morphed into a threat of severe thunderstorms in the afternoon. Not wanting to risk getting caught in the bay when a storm came up, I scrapped my plans for the day. But I figured I might give it a go the next day. But the more I thought about it, the more I didn't like the idea of solo boating on a busy weekend day, and having to deal with potential crowds at the launch ramp. It was a shame too, since I found out later from Gene that there was a Manatee spotted swimming around in the upper bay near his marina. It's a bit unusual, but not unheard of, for manatees to migrate this far north. I've never seen one up close and had I gone to the bay as planned, I might have seen it. But in any case, that trip didn't work out. But I was damned and determined to get the boat out somehow and somewhere. So instead of the long distance bay trip, I opted instead to try a little fishing at the much closer Blue Marsh Lake. Assuming it would be crowded, I figured I'd launch at the free Fish Commission ramp, as it rarely fills up, and I'd take the monotonous 1/2 hour+ idle trip through the no-wake area, and maybe catch a fish or two. I also wanted to do my "official" speed trial and get the numbers for the new prop and hopefully break that elusive 50 MPH mark. Arriving at the launch ramp, I was happy to find that my hunch was correct and there wasn't much activity. I had no trouble launching the boat, but a brisk wind, and a shortage of dock cleats, made tying the boat up a bit of a challenge, and I managed to put a few small scratches in the gelcoat in the process, which did not make me happy...... But I headed out for the long no-wake trip and managed to go through a whole CD full of songs before I made it to the end. The real surprise came when I made the rounds of the "full wake" area. It seems that both the Dry Brooks and State Hill ramps were only about 1/2 full. Heck, if I would have known that, I would have paid the $3 and launched at State Hill, at a far better launch ramp and not had to deal with the no wake zone. The good news is that I'm now hopeful that we can do a little more boating up here, since it looks like I can actually go on a Saturday, and not have to burn a vacation day just to take the boat out.
The last time we were out, I had spotted a ton of large carp skimming along the surface, so I was hopeful that I'd be able to land one (or two or three) this time out, now that I actually brought the fishing pole (and bait) along. Well, to make a long story short, the fish just weren't biting, and the only thing I caught was a bit of sunburn. My daughter Heather seems to be the only one who can catch anything in this lake with any regularity. I tried several different places but nothing more than a few nibbles were observed for all my efforts. I tried both worms and a lure, but both struck out. I've come to the conclusion that I basically suck as a fisherman, and when I do catch fish, it's by sheer luck. I've only started to become interested in fishing since my daughter's been around, as it's a fun Daddy/Daughter activity. And, as I get older, I'm finding it's also a nice way to relax and pass the time. But I've got some learning to do, if I ever want to catch the big ones, or any fish at all for that matter......
My speed trial went a little better than my fishing exploits. After all, I still like cruising the best. There is a nearly 2 mile straight stretch of the lake between State Hill and the no-wake zone, which makes for a good speed run. I tried to determine the best trim settings for optimal speed, but it was a little more crowded than I'd have liked it, which made the water a little choppy which, I'm sure, made it a little tougher trying to get that absolute top end number. And it looks as if I'm still just a bit shy of 50 MPH. I briefly saw about 49.2 MPH, but no more. The top end RPM numbers were still not exactly where I had predicted, but were close enough. I figured that with 3 inches less pitch, I should see a 600 RPM increase over the Mirage prop. In reality, it ended up being about a 500 RPM increase. That extra 100 RPM would have pushed me over that ever so daunting 50 MPH barrier. So here's how the numbers stack up:
Baseline with the standard Michigan Vortex 20" pitch 4 blade aluminum prop as tested 2 summers ago:
3000 RPM -- 23 MPH
3500 RPM -- 30 MPH
4000 RPM -- 34 MPH
4500 RPM -- 39 MPH
4900 RPM -- 44 MPH (WOT)
Numbers with a 23" Pitch stainless Mercury Mirage prop:
3000 RPM -- 29 MPH
3500 RPM -- 36 MPH
4000 RPM -- 44 MPH
4300 RPM -- 49 MPH (WOT)
Numbers with the new 20" Pitch stainless Mercury Enertia prop:
3000 RPM -- 24 MPH
3500 RPM -- 33 MPH
4000 RPM -- 40 MPH
4500 RPM -- 45 MPH
4800 RPM -- 49 MPH (WOT)
There is only a 1 MPH difference between the aluminum prop and the Enertia at 3000 RPM. But as the RPM's increased, the difference in speed starts to widen. At 4000 RPM, there's a 6 MPH difference, which is fairly significant. It was also interesting that the top end numbers between the Mirage and the Enertia ended up being the same, even with a 500 RPM difference. I figured the engine was being overtaxed with the Mirage, and with the RPM back into the recommended range, it might squeeze out that extra MPH. But alas, it was not meant to be. But while I may not have broken the 50 MPH barrier, this prop is still anywhere between 1-6 MPH faster than the stock aluminum prop at a given RPM, which should translate to increased efficiency and better MPG as well. I'm still determined to see 50 MPH on my GPS with this boat (and not just when it's being towed on the trailer), but it looks like the only way to do that now, is to make more horsepower. And aftermarket engine mods are not cheap, and I don't want to risk potential problems just for 1 more MPH. The easiest, and least risky (from an engine standpoint) modification, is to replace the stock cast iron exhaust manifolds with hi-flow stainless steel units and route the exhaust through the transom instead of through the prop. That should be good for at least 25 more horsepower, which should be just enough to break 50 MPH. But that change alone will cost around $2000. So it's not going to happen any time soon..........
(Oct)
Yep, you read it right, it's now October. No, it's not that I had gotten lazy and neglected to fill in the last couple of month's worth of boating activities. No, I'm afraid it's far worse that that. Yea, it's been over 3 whole months since the last time I had the boat in the water. I don't know what to say, the opportunities were few, and when they did come, something got in the way. If it wasn't raining, I was busy with some other chore or pre-arranged activity. If I wasn't busy, Heather had softball. If it wasn't softball, it was an inability to take off from work due to tight schedules. And worst of all, there were a couple of days where I could have gone, if I had pushed myself a little. But I just didn't feel like dealing with the hassle. So now I'm faced with the question, Am I getting so old now that trailering a boat is becoming too much effort? It would seem that way...
The 21st of Oct was the day the boat was put down for it's 6 month hibernation. It might be a little early this year, but the week before I did it, the weather had become downright winter-like. Cold, dreary, and raining (yet again). Most of the weather prognosticators are calling for a colder and snowier winter, so when we got a short taste of Indian summer, I decided to take care of the boat. I'd much rather work on it in 65 degree weather than in 40 degree weather. It didn't take long to do, but I'm concerned that because we didn't get out more than twice this year that some of the gasoline in the tank is close to a year old now. I've dumped in StaBil, both last year and this year, and the engine still runs fine, but I won't be too surprised if I start having mis-fire problems next spring. I'll probably top off the tank with fresh gas over the winter, so that the tank will be completely full.
Every year, I make a pledge that I'll get out more the next year. By the sheer numbers, I can't see it getting much worse. And to add to that end there is some newfound hope. It seems that Art has picked up a 30' Chris-Craft which he plans to dock down at the Chesapeake Bay next summer.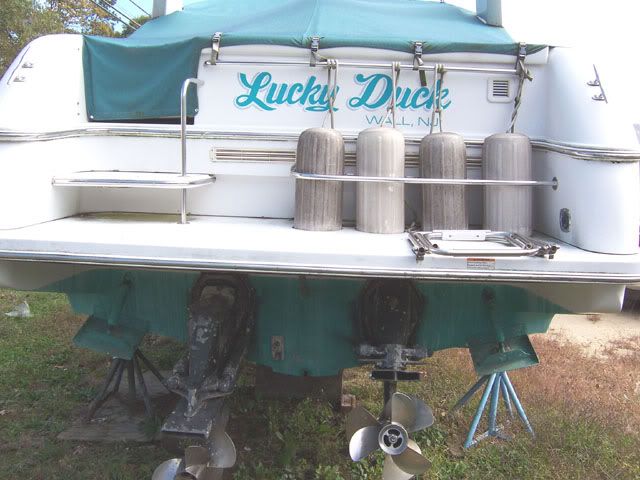 There will be opportunities for a story or two when we launch and take his boat out for the first time and hopefully several subsequent times. I'll probably take my boat down there a few times too. And I know Art will try to gently pressure me (and more importantly, my wife) into getting back into the marina life after a 25 year hiatus. And, truth be told, I'd like nothing more than to get a nice sized cruiser and do just that. No more hassles with trailering, and a turnkey boat that's ready to go when you get there. Now is a great time to buy a used cruiser too. They're going for pretty good prices, thanks to the sad state of the economy. But there's one thing wrong with this picture. It would seem that my pockets are empty. It's hard to buy even a cheap boat when there's no cash to spend. And the economy cuts both ways. There's no way I could get a good price for my boat in this market either. So we're in that "if I win the lottery" mode.
To be continued....... Next Year!