Boating 2010
Well, another boating season is beckoning to me from just around the corner. This story starts off in the beginning of the month of April, and normally, I wouldn't be working on this waterborne journal quite so early, but things are already starting to happen. Like in years past, I'll start off the story with a brief rundown of the weather conditions. Right now, Al Gore's minions are probably scrambling for their "global warming sinners repent!" speeches, as the weather has been downright summer-like for the last week or so. Normally, in the beginning of April, we'd be playing that oh-so-familiar tug of war game with old man winter, with upper 50s, maybe lower 60's for a few days, followed by a plunge into the lower 40's and weeks of cold, miserable rain. But this year, it started warming up in March, and I kept waiting for old man winter to strike back, but his attempts were feeble at best. By the time it hit the first week in April, the temperature had hit 86!, and not just for one day, but 4 in a row. Granted, it finally dropped back into the 60's the next week, but it's hard to not think about outdoor recreational activities with this kind of weather. Ironic too, since this unseasonably warm (hot!) weather came on the heels of one of the snowiest and coldest winters on record. Two months before the wild high temperatures, we were digging out from not one, not two, but THREE consecutive snowfalls of over 1 foot each in less than 2 weeks time. Had the weather not turned so warm when it did, there'd probably still be remnants of snow piles at the corners of our streets and parking lots. Anyway, with the early preview of summer, thoughts of boating have been driven to the forefront in my mind as of late, although my own boating may have to wait a little while behind a seemingly endless string of chores and daughter activities. The price of fuel is hovering at the $2.77 mark and slowly rising (As it does nearly every spring). My boat still has a full tank from last year, so I'll have plenty of gas, and hopefully I'll get out more than twice this year.
But things are not all bad. Remember this?:
Yes, that's Art's "new" boat, which he had successfully bought and had moved to the Chesapeake Bay late last fall. Well, despite the heavy snows, the boat survived its winter hibernation no worse for the wear. Art had been gathering parts and accessories for the boat all throughout the winter, and we made a trip down the first week in April. We even managed to get the port side engine running. Art's got a tentative May 8th-ish launch date with the marina, so the clock is definitely ticking. The starboard engine had a frozen starter bendix, so once that is corrected, we'll hopefully get that engine running as well. Look for more details of this raucous, whacked out adventure in boating to be told in all of its glory in a companion story (with pictures!) sometime soon as the events unfold. This will be Art's first truly water-worthy boat in many years, and he's planning to use it as a work-from-home-away-from-home getaway, so there's real incentive there. I'll hopefully make a few trips down with the family and enjoy a nice bay cruise. Hopefully I'll even manage to drag my boat down there for a day of big boat vs. little boat fun.
(May)
Art's boat made it into the water as predicted. The remaining engine problems have been sorted out for the time being, and Art is now in the process of trying to make the boat into a livable getaway. I have not been able to get down to help out since the boat went in, as I have had chores and activities every single weekend (that it hasn't rained) so far. My own boat has not made it out of the garage yet, so I'm in that same situation I was in last year. Too many things to do, and not enough time to do them all. Last year, most of the chances that I had to get out with the boat or the camper were spoiled by my ever present nemesis, rain. I can only hope that this year will be a little better...... Speaking of weather, it's been another strange spring. Like I reported last month, we had a blast of summer-like weather early in April, but the month of May has been mostly dreary and on the days without rain, the temps have been less than summer-like. It's as if Mother Nature shuffled the months of March, April and May and mixed them all up. March was like April, April was like May, and May has been more like late March. June is just around the corner, so hopefully it'll get better. Gas prices had been steadily rising and had hit the $2.85 mark. Then the economic collapse in Europe had the unexpected side benefit of dropping the price of oil and gasoline. We're now below $2.70 a gallon, and with Memorial Day a week away, the prices do not expect to get much higher baring some catastrophic situation. So that's a good thing. It's good for Art too, as he still has to top off his fuel tank before we take the boat on any serious cruise.
(June)
Well, I managed to get my boat out of the garage and unwinterized on the 5th of June. But in a shining example of Murphy's law meets the "bad things happen in threes" rule, the boat's battery was dead, or nearly so. Why threes? Well, during the previous 2 weeks, the batteries in both the truck and my car died suddenly. And now the boat's battery brings the casualty count up to number 3. Funny thing too, as it had been fine back in April when I pulled the cover off during the warm stretch and I briefly cranked the engine over. But here it now was, sitting there producing that dreaded "click-click-click" sound when I hit the key. I heard a voice inside my head, which sounded strangely like Art's, saying "That don't sound good at all". And he (it) was right....... Misbehaving cosmic forces aside though, I did manage to charge up the battery just enough to fire the engine over, and it ran fine, even with the year old evil 10% ethanol blend in the tank. I had dumped in liberal amounts of Sta-Bil ethanol stabilizer back in the fall, but I'm still a little uneasy about what might be going on in the fuel tank. On the other hand, Art's boat had been sitting for over 3 years with the same gas, and it seemed to run ok, so I might be worrying for nothing. Still, the last thing I need is for the engine to quit while we're out in the middle of the lake in a couple of weeks. I'd really like to take a test run up to Blue Marsh before our camping trip to Wallenpaupack tentatively planned for the end of the month (weather permitting).
Well, wonder upon wonders, our Wallenpaupack camping/boating trip went off without a hitch. As usual, we caravanned the boat and the camper up to the campground, which went surprisingly well, with light traffic and no mechanical issues. The plan was to set up camp and drop the boat into the water and utilize a rented slip to dock it in for our 3 day stay. We wasted no time dropping the boat in when we arrived on Tuesday....
The weather was totally rain free, and the days were breathtakingly sunny with low humidity. The only down spot was that the daytime temps were a bit cool for late June, rising only into the low 70's. I was actually quite comfortable sitting on the boat fishing, or just hanging out. But the little bit of nip in the air, perpetuated by a persistent 10 mph wind, pretty much meant that I wasn't getting in the water. But it didn't stop my daughter and her friend from swimming like fish, and daring to ride the bob for the first time.
We also took our usual leisurely run around the whole lake to take in the sights, and to see if anything new has been added or if anything has changed. The day was picture perfect in nearly every way.
One thing we noticed on our journey, was that Kipp Island was off-limits. We found out that there was a Bald Eagle nesting there, and the powers that be decided to quarantine the whole island until the end of July. I was a little bummed as Kipp is a nice island to anchor near, as it has a somewhat sandy beach on the south side, and a hook shaped peninsula, which acts to block boat wakes and some wind driven chop. But we settled for Martin's Cove and Burns Island as our main stopping points instead. We also cruised by my dream lakefront house. A place like this is where I'd love to spend my retirement years. But considering that lakefront property values are running near 1/2 mil for the nicer places, I've got a better chance of getting hit by a meteor than affording one of those. Still, it's nice to dream....
I had been initially concerned about how the boat might run, since I didn't get a chance to test run it first, and I was still holding on to that 1 - 2 year old gas in the tank. But my fears were unfounded as the boat performed fabulously, and I managed to burn about 1/2 a tank of the skunky fuel. I had hoped to burn even more, and probably would have, but when Thursday came, the wind was even more brutal than the day before, and my wife and the girls were shivering, so we decided against tubing, cut our run short and pulled the boat out early. I was also impressed by how well the new Enertia prop did pulling the inflatables. The original 20" pitch aluminum prop struggled a bit pulling the tube up, but this prop pulled much smoother, even though it also has a higher top end speed. This underscores how a stainless prop is one of the best performance enhancements you can get for the money.
The camping trip was great, and the really good news is that the wife is now pushing for us to get a seasonal site up here, and we put our name on the waiting list. The bad news though, (and there is always some) is that there are 4 people ahead of us on the list, and it might be 4 years (or more) before we get the site. In the meantime, we may be able to rent a site on a monthly basis, starting next year. It will be nice not having to tow everything up when we want to go. And we'll get more boating in with the turnkey convenience of dock mooring. Although I'll have to come up with an easy way to keep the boat gassed up utilizing on-shore gas, as the on-water price for gas is a full $1.00 more a gallon. I'm also a little concerned about sun fade on the boat's gelcoat, potential chafe and other dings, as well as rainwater ingress and high humidity playing havoc on the engine and giving the boat that typical boat-like musty smell. But I'll probably get a full mooring cover to keep most of the boat out of the sun (and rain). And remember, you only live once.
By the end of the month, the weather had finally become summer-like. After the brief cool snap during our camping trip, it's returned to the 90's. It hasn't rained in 2 weeks, which is good on one hand, but not so good for the lawn. But true to form, the long range forecast shows the next chance for rain will come on - you guessed it - the coming weekend........
(Aug)
Yep, almost two whole months have passed by before the boat saw water again. Other vacations, relentlessly hot and humid weather (daily temps have been over 90 for most of the summer), work schedules, and other activities have made boating opportunities just a little on the scarce side. I have not even made it down to Art's boat since it was put in the water back in May. But Art has not been spending time on his boat either, as he's also not a big fan of H-H-H weather. So, it would appear that while the dog days of summer are here with a vengeance, they were just not being spent on the water. But on August 20th, the family plus one of my daughter's friends, took a trip up to Blue Marsh to do some swimming, boating and water sports. Because we had a 4th person along, I couldn't use my truck to pull the boat, so I had to use the wife's Explorer instead. I don't particularly like towing with this vehicle. It has plenty of power, but the rear suspension is not as stiff as my truck, so it's a little more squirrelly when towing with it. But the boat trailer behaved itself, and there were no towing issues on this day. I also took advantage of our gas rebate card to put gas in the boat at 90 cents off per gallon (up to 20 gallons). I was pleased to see that all the running we had done at Lake Wallenpaupack in June only burned 19 gallons of gas. It's starting to look like this boat is not too bad on gas consumption.
When I got to the launch ramp, after paying my $3.00 usage fee, I was met by a couple of Coast Guard auxiliary members who wanted to give me a courtesy inspection. I normally don't bother because I don't carry, what I thought were, required flares. But they told me that I didn't need them if I stayed strictly on inland waterways. So I let them give me the inspection. No surprise, I passed with flying colors, as I do carry the required safety equipment (minus those superfluous flares). So now my boat is sporting a Coast Guard inspection sticker. The ordeal brought back memories of my 1980's boating at the Betzwood ramp on the Schuylkill River. Every weekend there was a Coastie (Larry) staking out the place and bugging boaters trying to launch, to do an inspection. And he used to bust my chops about not having flares. Now I find out I don't really need them. Hey Larry, I finally got my sticker without your flares, what do you think about that?
Anyway, once we were done with the inspection, the boat was dropped in and we headed out. We took a quick run around the lake and anchored up one of the creeks in the no-wake area and ate some lunch and we all did a little swimming. I had opted to not bring my fishing pole along, figuring I wouldn't have time to drown worms. But as is typical, when I don't have my pole along, I miss fishing opportunities, and this day was no different. As we ate lunch, I observed several 1'+ long catfish skimming scrap food from the surface. Darn!
After cleaning up from lunch, we blew up the "Bob" and let the girls have a ride. I was pretty easy on them while they were on the bob, as it tends to roll over if you turn too tightly. But in the end I did try to dump them and it actually took a little work to accomplish.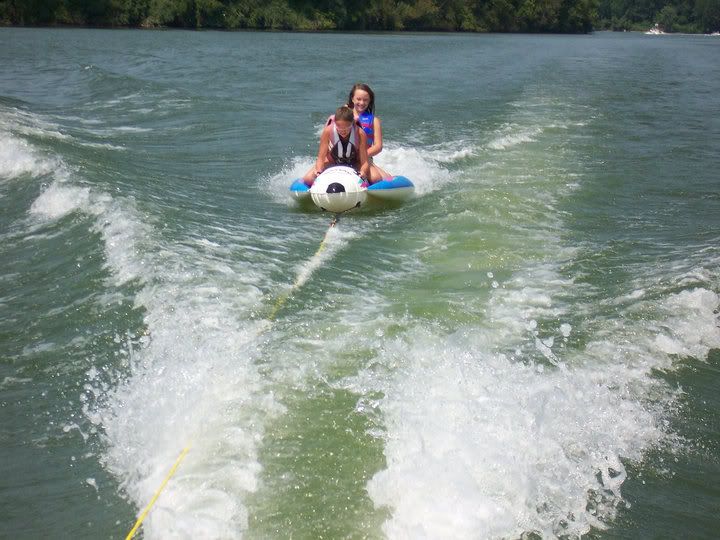 But then we switched to the big tube. After the girls appeared to be a little too comfortable and complacent riding, I started to whip them back and forth across the boat's wake and taking tighter turns. Eventually they wiped out and went cart wheeling across the water, but they kept wanting to go again and again. I remember that feeling not so awfully long ago. So now, all of a sudden, Heather really likes boating and wants to go out again before school starts. Geese, if I had known that, I'd have flung her around 2 years ago.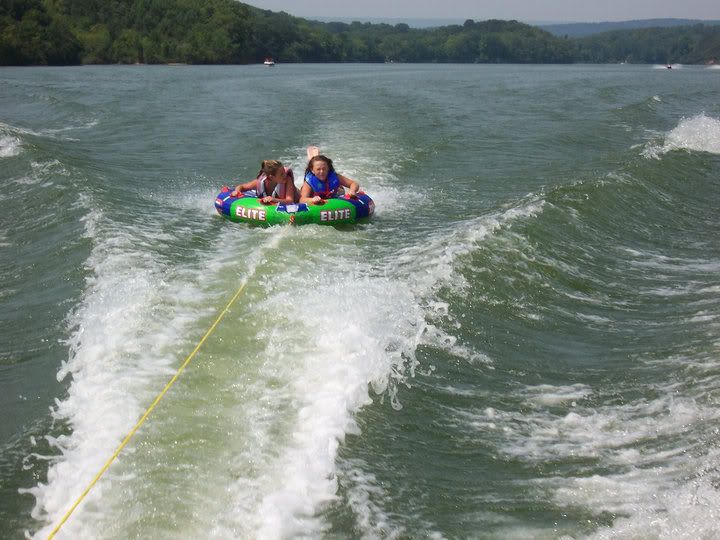 But now that she suddenly wants to go out again, we find ourselves at the end of the "official" summer season, and she'll be back in school in a week or so, so opportunities beyond that will be limited to weekends only, which is not a good idea at Blue Marsh if you want a safe, uncrowded waterway to run on. There are two more days where we might make it out. Hopefully we will.

..........

Well the next and probably the final opportunity to get the boat out again occurred the following week right before school started during the last week in August. We headed up to Blue Marsh once again to take Heather and her friends tubing. This time Heather brought two friends along........
And they took turns trying to ski first. But when they couldn't get up and stay there, they quickly lost interest in skiing and decided to take on the tube for some intense zig-zagging, wake jumping, skip your butt across the water fun. At first they took turns two at a time on the tube, but eventually, they got a little bold and tried it with all three of them riding the inflatable beast.......
They didn't last long having all three girls on the tube, but it was worth a few pictures and some video. The boat performed well, and we burned through a bit more of that 2 year old gas although, by now, it has been diluted by 20 gallons of fresh gas purchased this season. Of course, no boating outing is ever perfect and this one was no exception. This time, it wasn't Murphy, the weather, or anything else. I can blame no one but myself. We had stopped to eat lunch and do a little swimming. Well, absent minded me decided to go swimming but neglected to take off my glasses first. So when I launched myself off of the back of the boat, I realized my mistake right as I hit the water and felt my glasses being ripped from my face, the heavy metal frames sending them for a quick trip to the bottom in about 23' of murky water. The kids tried donning goggles and attempted to go looking for them, but I knew it was a fool's errand, as the water was too deep for them to reach the bottom, and too dark and murky for them to see anything. Needless to say, without my glasses, I was far too "blind" to safely pilot the boat while pulling the girls around on the tube, so Kimmi and I swapped duties, with her taking the wheel, and me operating the video camera. But she didn't want to attempt backing the trailer in the water and pulling the boat home, so I didn't have much choice but to drive home while visually impaired. Fortunately it was daytime and no small animals or children jumped out in front of me...........
(Sept)
I had hopes for one or maybe two more outings in the boat before putting it away for its long winter nap. But it's looking as though that's not going to happen. It's a shame too, as the weather this September has been very summer-like, with very little rain. But every silver cloud has a dark lining. The lack of rain this summer has led to the gradual reduction of flow in the rivers. The powers that be have tried to augment the reduced river flow by releasing water from the Blue Marsh lake. This has led to the lake level dropping below the bottom of the launch ramps, so consequently, they closed the lake to trailer boating. So now I'm left with the choice of either taking the boat elsewhere, or calling it quits for the season. Considering that every weekend is now tied up with softball games, and any other decent place where I might want to take the boat to would be a long drive, I'm not all that hopeful. I'm still hoping for a chance to take Art's boat out, but he's now worried about weak hoses, and I think he's not all that anxious to take it out. So, once again, it looks like we push things off to yet the next year hoping for better chances. We've got some great plans in the works for next year, but my pessimistic side tells me that since we had very little rain this summer, that next year will make up for it so............... Yea, we'll have to see.
(Oct)
Well, as luck would have it, recent heavy rainfalls have risen the lake levels at Blue Marsh to the point where they were able to re-open the launch ramp. But there was a catch -- the docks would not be re-installed. Without the dock, it makes the launch and retrieving task much more difficult, especially if you are single-handing it. Combine this with the fact that Heather was playing on 2 softball teams this fall, with games on Saturday and Sunday, and I never got the chance to take the boat out again this season. I also never got down to see Art's boat while it was in the water. What a disappointment this season was on that front. We had made some grandiose plans, in the beginning of the year, to hang out on the bay and cruise around, but they just never materialized. Art was busy with home improvements and work-work, and I had all sorts of stuff going on, plus not wanting to deal with the uncomfortably hot weather and well, we just didn't make it happen. Art is planning on working on the boat next season, so maybe then. Of course, I have the prospect of a 2 month stint up at Wallenpaupack next summer to look forward to, so once again I'm hopeful....
The boat was put to rest on October 24th. The weather was warm for this time of the year, which makes the task somewhat bitter-sweet. But, truth be told, I'd rather work on the boat when it's warm, then when it's 45 and chilly.
See you next year!